Community Risk Reduction, Goal vs. Reality
All public safety entities have a goal to reduce the risk to the communities they serve. Unfortunately, Community Risk Reduction (CRR) is far too often a goal, rather than a reality. Some of the problems associated with these CRR programs are; funding, personnel, poor morale, time constraints, lack of interest, mismanagement, etc. Some organizations try their best, but find it difficult to group all of the great things they are doing to optimize their results. This is why we created Virtual Community Risk Reduction.
Virtual Community Risk Reduction is an organized, cost-effective, and a metrically based way for any size organization to have a high-quality Community Risk Reduction program. It is tailored to the organization, providing your high-quality information to your communities, while gathering the valuable information you need.
How Does Virtual Community Risk Reduction Work?
First of all, it starts with a short survey that goes out to your community.
Depending on how the survey questions are answered, a customized report will be generated for each person taking the survey. This report gives the safety information you would like your community to receive. In addition, it also includes links to your existing videos, pictures, or articles.
Once they receive their report, you have given your community the information you want them to have. Most important, they can also request more information directly from you.
Metrically Based Community Risk Reduction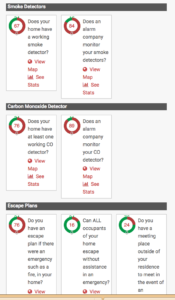 Now comes the real magic. Virtual CRR collects the information from these surveys. With this information, you can better understand the needs of your community. As a result, it lets you know which area has the biggest risk as it pertains to each question.
This information is shown in graph form or on a map. It can also be downloaded in csv format for your future use.
Types of Virtual CRR Surveys
There are many types of surveys we can create for you. Your communities may have other needs, but some examples include.
| | | |
| --- | --- | --- |
| Home Fire Safety | Wildland Fire Preparedness | Drowning Prevention |
| Fire Prevention | Emergency Preparedness | Earthquake Preparedness |
| Hurricane Preparedness | Tornado Preparedness | Flooding Preparedness |
Virtual CRR is from you to your community. We design your surveys and reports with your logos, pictures, videos, etc. You choose the survey questions and answers. We are here to help you reach out to your communities and better understand them. Here is an example of what we can design for you. Keep in mind, your survey will have all of your info, pictures, and logos.
Sample Fire Department Virtual CRR Survey This is the survey you would send out to your community to provide them with your quality information. Your survey will use your logo, pictures, videos, and content.
Sample Fire Department Virtual CRR Statistical Report This is the report the department receives displaying how your community answers the survey and where those answers come from. Download all of the raw data from your community here as well. The information displayed on this report is for example purposes only. The data is not accurate but serves as a reference to see the capabilities you will have with your Virtual CRR.